About Us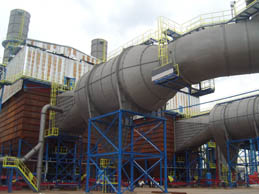 ARK Industries has been formed in 1991 with the aim to supply Iron & Steel sector with industrial products and technology.
ARK Industry Group serves Iron & Steel, Cement and Construction sectors with EPC, manufacturing, erection, and services.
ARK INDUSTRY GROUP supplied leaders in the industry with machinery, equipment and consumables, manufactured and erected steel products and performed EPC works for environmental investments.
ARK INDUSTRY GROUP proudly serves the domestic and foreign markets.
Our Vision, Mission Statement and Values
Our Vision
Leading the industry by gaining and maintaining international respect from the quality of work performed.
Mission Statement
Maintaining success by remaining up to date with technological developments, maintaining quality in products and services, maintaining responsibility to clients, colleagues, society and to the environment, and contributing to the development of the region.
Our Values
. Being result-oriented
. Believing in lifetime development and being available to innovations
. Being client-oriented
. Adding value to work performed
. Maintaining honesty and transparency in business relations
. Forming long lasting relationships with clients
. Efficient and productive resource allocation
. Being respectful to people, work and the environment